Referral Program
In the Store: Go to My account then Referral Program. Here you can invite friends to the store and when your sponsored friend makes a purchase, you and your sponsored friend will receive a voucher (coupon) for a percentage off your next purchase.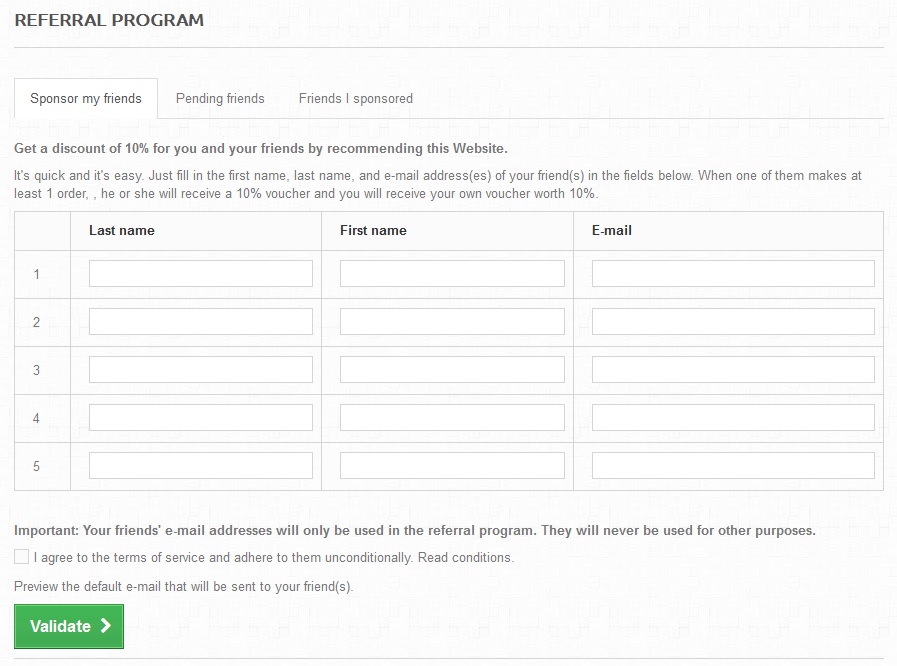 Here you can also view Pending Friends and Friends You Sponsored.
Your can then enter the name and email address of the person you wish to refer to the site. After you click "Validate," the person(s) you entered will receive an email.
In "Pending Friends", the referral tool displays to you which of your referrals did not make a purchase after the email was sent. You may choose to resend an email by selecting the name and clicking "Refer my friends". Friends will then receive an email inviting them to register and submit an order.
The last tab in "my referrals", named "Friends I have sponsored", enables you to see who among those to whom you sent a referral message, did accept the invitation and ordered an item on the store. When registering, the referees must indicate the email address of the person who referred them, so that they in turn may benefit from the discount: